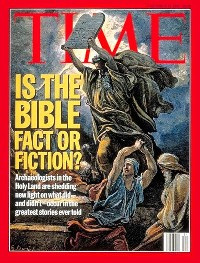 Solomon's Women
The Holy Bible 1 Kings 11:1-3
At Hazor, I remember trying to tell a man who was burdened with deep guilt in his personal life and a gripping sense of religion, about what it was like to walk off that Tel. When I began to relate the changes in my personal life my eyes inevitably widened, my smile broadened, and I probably even giggled a little. The harrumph of the committed sounded as he pounced on me with an "I have heard just about enough of that". Damnation was on his mind and I was a blasphemer. !
I went to Gezer in large part because, I could not, or did not know how, to get a date. The Allegheny College girl I was chasing (Joanne Hanson '74), decided not to go, probably better no Israeli desert than one with me. I was smart, Valedictorian at North Yarmouth Academy prep school (70),... a New England all boys Prep school. Girls were seen occasionally walking in Yarmouth town. For my Senior Prom my aunt arranged a date with Dewsi Wenkler from Connecticut. The same thing all Freshman year. I would have arrived at the dig a 19 year old virgin but for a car accident the month before with a girl at Pine Point Maine which resulted in virginity's loss in the Sun and Gallo wine soaked back seat.
I walked off Tel Gezer the leanest most in Fit and thin person I have ever been. That's a 15' x 15' square 20 feet down, with a large Pick, hoe and buckets on ropes in 120 degree heat and sun. Maybe it was the broadening experience of traveling which does it for so many,.. but in the days following the dig I began to suddenly and spectacularly make up for lost time. In a few short months, I would pass a bakers dozen lovers in the cold weather in Meadville that year. A series of affairs with other college travelers was followed by traveling extensively with a 28 year old, stunning Pre-Med student from Groningen Holland who was a welcome and wildly exciting tutor,... followed by Allegheny's class of 1975,... Smart, universally pretty, independent strong minded,... perfect!
I returned to Allegheny six weeks after the dig and by March 1972 was President of the Student Body as a Sophomore and later re-elected as a Junior. Life's sudden torrid pace continued. Three partners a week was not uncommon in those years. I was a suddenly a Big Man on Campus in the years 1971-74, the peak years of the sexual revolution. Suddenly I was one of its charter members. Meadville girls (Townies), then Peace Corps in Belize and hanging with the Reggae Bands in British Honduras, wherever I went life became the pattern of a 20 year old on the hunt. The hunt for perfection, in physical beauty, in dynamism, in intellect, and sexuality, became an ingrained part of the day. It was always there, unobserved and running in the background, dominated and delimited by an overwhelming desire to please. One encounter left behind just as easily as the next begun.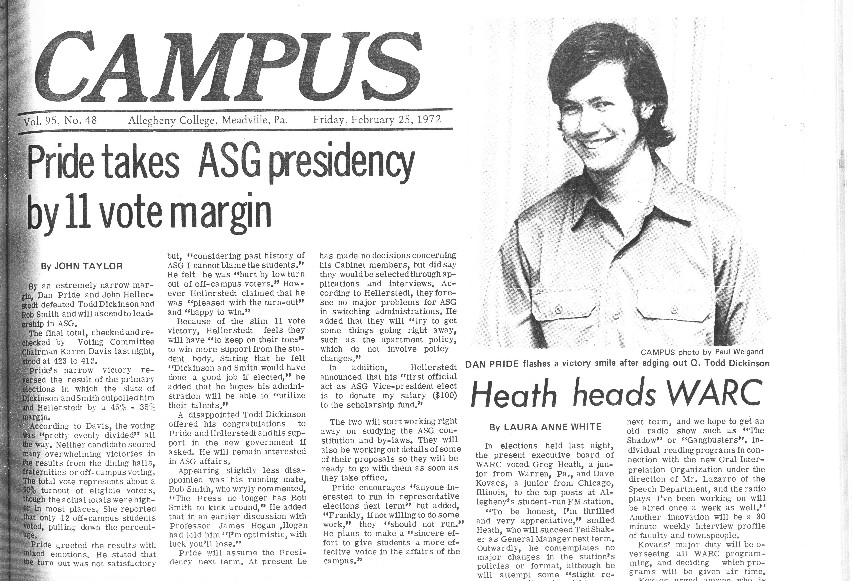 Then came Peace Corps Thailand.
When I arrived in Thailand there were 50,000 American GI's there. Airplane Mechanics, Pilots, support functions for the South East Asian Theatre. They had been there for a decade. They were ALL rich in Thailand. They were all young and fit in Thailand. They all had at least one Minor wife in Thailand. Then the King of Thailand kicked all the GIs OUT OF THAILAND.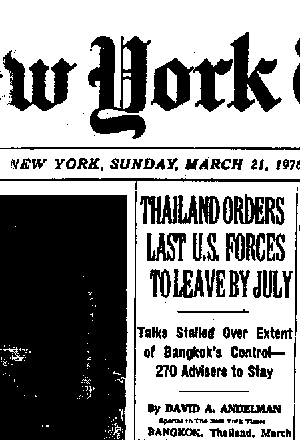 Australia's famous voyage of the courtesans (where a handful of 20 year old sailors transported 200 20ish female British prisoners to Australia) had nothing on 1976 in Bangkok. Suddenly a bawdy Thai American community of some 200,000 had its entire male population removed. All the European Men were gone.... except for me and my fellow Peace Corps volunteers.
Peace Corps Thailand had the highest extension rate in the World that year. All Men.
In remote areas at the time you could literally gather a crowd of 30 people standing around to hear you talk Thai on a street corner when you were just asking directions. Speaking Thai made you the equivalent of a Movie star or a Rock Star if you will.
Speaking Thai gave every Peace Corps volunteer there (including me) a social status on the order of a John Wayne...
My life was again shaped by yet another peculiar set of influencing experiences.
In the years after Thailand life's torrid pace continued,... ebbing and flowing with the circumstances and the places, and slowly fading with time and age as the decades passed.
Instead of Moabite, Ammonite, Edomite, Sidonian and Hittite ... it was Japanese, American, Dutch, German, French, Thai, Lao, Belizean, Honduran, Nicaraguan, Mexican, British, Irish I think, Brazilian, Vietnamese, Korean, Greek, and Chinese....
?

...from a regional manager of the Department of Labor to lead singers to babes in full heavy metal regalia,... including a weekend fling with a former Charlies Girl in Bozeman (as in manson) I loved and cared about nearly each and every. I arrived on the doorstep of my elder years, with few strong regrets except for having missed the family life I always really wanted to find. The mysteries, adventures and wonders that have dominated my existence since the Gate, the raw volume of intrigue, is however more than just compensation, all else simply and completely pales.
Bill of Good Health
A Miracle in its own Right
---
Documentary Sources: Kiss and Tell is bad style, Allegheny College Alumni Bulletin November 1977
---
This is just one of the Paranormal Events surrounding
King Solomon's Gate
The first Archaeological Proof of the history of the Bible, Torah and Quran
---